Finding the best WordPress booking system for your small business can be tough. There are a number of third-party sites like SimplyBook, BookWhen and Appointy; but they lack the flexibility your small business requires. We believe that the best booking systems are integrated into your website. Here at Jumbuk, we specialise in building WordPress websites. In this article, we will look at a number of top WordPress booking system plugins that can help your business.
First things first, you need to understand what makes a good booking system.
Easy-to-use interface
Like any online application, an e-booking system should be as efficient and seamless in use as possible. Your customers want to book a service instantly, without having to wait for load times or get redirected to a third-party website unnecessarily. If your booking system takes too long to load, you risk losing customers before they even get the chance to navigate between pages and view what you have on offer.
If it's not intuitively easy to understand how they can accomplish the simple processes they're trying to do (like booking a class), then you might see them leaving your page or heading over to a competitor with a quicker and easier booking system. A seamless user experience is vital when using an e-booking system: visitors should be able to complete their tasks within one page and feel like there aren't any needless steps getting in their way of reaching their goal – otherwise, your business will suffer!
Simple & Secure payments
When your booking system design has a payment step, it's just like e-commerce so pay attention to secure details. Consider online payment processors like PayPal or Stripe when picking a booking system. These allow payments to be quick and secure as well as making it simple to enter their email address and password. Don't ask for any personal information you don't need – longer entries are more prone to visitors leaving.
You can make a booking system even easier by defining important information that needs to be filled in. The most important thing is securing your site through HTTPS rather than HTTP* so that all incoming data gets encrypted making it difficult for anyone except you and the customer to access it.
*Stripe will not allow you to integrate their payment processor onto a non-HTTPS website.
Automatic confirmation emails
Once a customer has completed an online booking on your website, you should immediately send a confirmation email that includes all the critical details of their appointment (e.g. date, time, location and a breakdown of any outstanding costs such as additional members or materials that need to be paid for on the day). In addition to this confirmation email, you could also streamline the process further by creating some online support like a calendar which makes it super easy to change people's appointments if there are any errors.
For example, if somebody requested a 10 am appointment when they actually wanted a 2 pm appointment, now you have to give them an easy way of correcting their booking. Whether by contacting a member of your team or manually editing the details yourself.

---

1. WP Amelia
WP Amelia is Jumbuk Digitals go to WordPress booking system plugin. The booking system caters for a wide range of service-based businesses such as solicitors, beauty salons, sports clubs, mechanics and spas. The booking system is clean, easy to use and offers a range of payment options for customers; including PayPal, Stripe, Mollie and On-Site Payments.
The system comes with an admin dashboard that lets you see a summary of your bookings and tracks the performance of each individual booking and employee. There are also two types of bookings that can be made with WP Amelia: Appointments and/or Events. Appointments are great for use with one-off bookings such as a haircut, and Events are amazing for block bookings such as Yoga Classes.
Finally, WP Amelia also offers a built-in SMS reminder system (which needs to be topped up) that will send a text to customers reminding them of their appointment and automatic email notifications.
**PRICING**
Annual Licenses:
1 Domain – £76 / Year (no package of services included) 3 Domains – £116 / Year Unlimited Domains – £242 / Year
Lifetime Licenses:

1 Domain – £193 / One-Off Cost (no package of services included)
3 Domains – £388 / One-Off Cost
Unlimited Domains – £573 / One-Off Cost
---

2. WP Booking System
WP Booking System is the perfect tool for rental businesses that want a powerful, reliable booking calendar that integrates seamlessly with any WordPress website. See all your bookings in one place, organized in tabs. Easily find bookings by sorting them or using the search function. With intuitive booking management, you'll have all the information you need right at your fingertips. You can also set booking restrictions to ensure that your customers always have a great experience.
This plugin accepts multiple payment provider integrations such as PayPal, Stripe, Square, WooCommerce, Mollie and GoPay. You can use email and SMS automation to stay in touch with your customers before and after their appointment. By sending tailored messages, you can provide a great customer experience, reduce no-shows, and encourage customer loyalty.

PRICING

Personal – $49 a year
Business – $79 a year
Developer – $159 a year
---

3. Bookly Pro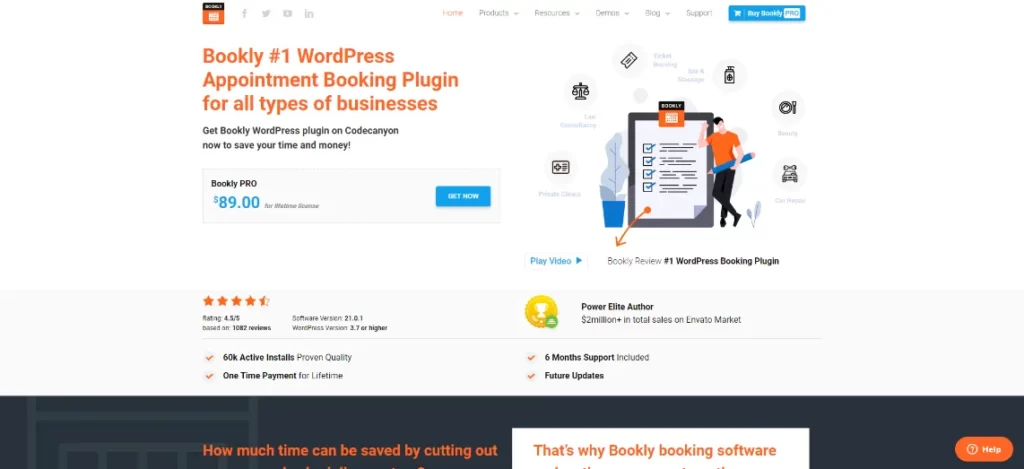 Bookly is an appointment and scheduling software plugin that you can install on any WordPress website. Bookly Pro is an add-on for Bookly. At the time of writing, this plugin currently has 44,627 sales and a 4.54-star review on Code Canyon. The plugin integrates with third-party software such as Zapier, Zoom and Google Meet. The plugin boasts great functionality and also has the ability to send SMS (for an extra $10) & email reminders.
Bookly Pro is the perfect appointment scheduling software for businesses of all sizes. Its dozens of add-ons make it possible to automate and streamline the process of booking appointments, managing customers, and gathering leads. This makes it an ideal solution for businesses in any industry that want to improve their conversion rates and grow their customer base.

PRICING
Bookly – Free
Bookly Pro Addon – $89 (One-Off)
SMS Addon – $10 (One-off)
Custom Fields Addon – $49 (One-Off)
Service Extras Addon – $49 (One-Off)
Locations Addon – $39 (One-Off)
---

4. Booking Press
BookingPress is a WordPress booking system plugin that has a classic step-by-step booking wizard system. Its modern and user-friendly UI\UX makes it perfect for almost any business. This super flexible WordPress scheduling plugin lets you quickly adjust services, staff, appearance, content, etc. to match your theme and business requirements.
BookingPress' email notification customization is great for when you want to change up the messages you're sending out. You can add in your company logo or other important details like appointments and customers just by adding in some extra tags. However, Booking Press does not currently support SMS notifications.

PRICING
Booking Press is the only FREE WP Booking system on this list!
---

5. Modern Events Calendar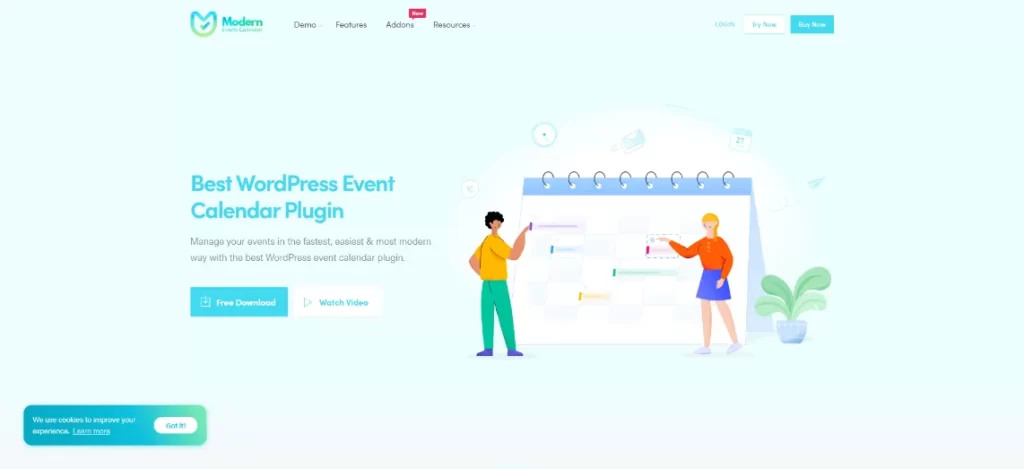 Modern Events Calendar by Webnus is another WordPress booking system that we love here at Jumbuk Digital. This booking system is probably the most advanced out of every other one on this list. MEC utilises a ticketing system but requires a few add-ons to get the most out of it. You can easily promote any event on your website with the use of MEC reserving functions.
MEC also allows you to accept Secure Payments with Credit Cards, PayPal and Stripe. MEC also offers a plugin add-on called Ticket & Invoice Addon. This allows you to generate QR codes which can easily be scanned upon arrival at your event. MEC delivers a range of fluid layout templates to make the user experience as simple as possible. The plugin can be integrated with a range of other third parties such as WooCommerce, Google Calendar, Facebook and Elementor.

**PRICING Annual Licenses:**
MEC PRO – $79 / Year

A range of the additional plugin costs can be found on the MEC website here.
---

There are a number of top booking system plugins in the WordPress marketplace, each of them with its own strengths and weaknesses. The main thing you need to consider is your business requirements. If you're looking for a booking plugin that can be incorporated into a WordPress website, the best place to start is at the top of this page.

If you want to learn more about booking system plugins for WordPress or speak to us about creating a website with an integrated booking system, you can contact us anytime at admin@jumbukdigital.co.uk. Thank you for reading, we are always happy to share our knowledge with our readers!